IMPERSONATORS, LOOKALIKES, ENTERTAINERS
DOUBLES, MODELS, LOOK-ALIKES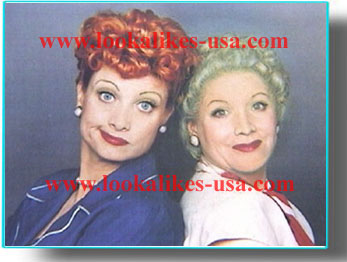 Click for another picture.
These Lucy Lookalikes, Impersonators, and doubles are Great for corporate or private parties, Trade Shows, Hollywood theme events, Grand Openings, Commercials, advertising, fundraisers, etc. Lucille Ball (Lucy) lookalike-impersonator can talk and act out all your favorite Lucy shows. Lucy impersonator can also be matched with a Desi Arnez (Ricky Ricardo) lookalike Impersonator, or Fred & Ethal Impersonator from the Lucy Show. These Lucy Impersonators can perform in Atlanta, Boston, New York, Los Angeles, Las Vegas, Chicago, Washington D.C., Atlanta, Orlando, Miami, Dallas, San Francisco and many other cities where Lucy & Ricky (Desi) Impersonator, lookalike, double is needed..

For Booking Information
NATIONWIDE NUMBER: 781-871-1715

Send E-mail to: lookusa@comcast.net
Lookalike-USA
© 1997 Lookalike-USA


If you see any errors with the website please email
nate2334@comcast.net