IMPERSONATORS, LOOKALIKES, ENTERTAINERS
DOUBLES, MODELS, LOOK-ALIKES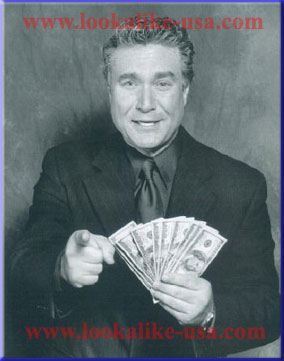 Click for larger image.
Regis Philbin Impersonator, Double, Look-alike--& Impersonator is great for corporate or private parties, Hollywood theme events, grand Openings, commercials, advertising, MC, etc. This Regis Philbin double/impersonator has traveled across the USA . . Regis Philbin lookalike available in Los Angeles, Chicago, Boston, New York, Dallas, Orlando, San Francisco, Las Vegas, Atlanta, San Diego, L.A. Hollywood, Washington D.C., New Jersey, NY and any other major city or overseas work where a great Regis Philbin double, impersonator is needed.. Who Wants to Be a Millionaire and talk show host are some of the themes you can use the Regis Philbin Impersonator lookalike. Regis is also great for Barmitzvah's, Industrial Videos, and all corporate or private parties that need Regis Lookalike, Impersonator......

For Booking Information
NATIONWIDE NUMBER: 781-871-1715

Send E-mail to: lookusa@comcast.net
Lookalike-USA
© 1997 Lookalike-USA


If you see any errors with the website please email
nate2334@comcast.net